Laleh Ensafi - Lead Attorney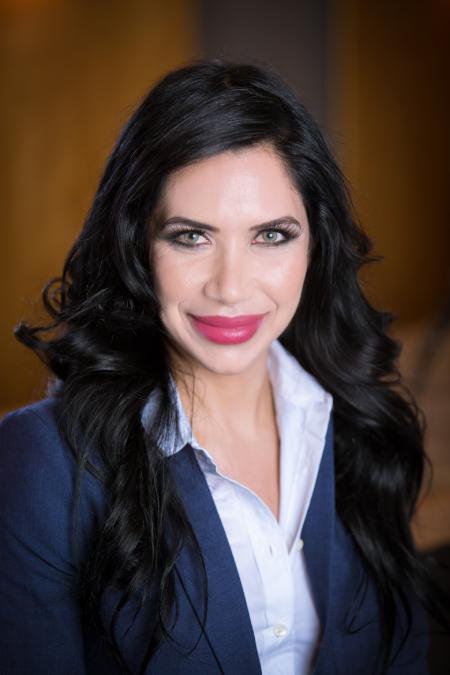 Laleh Ensafi, Esq. is a graduate of the University of California Los Angeles and subsequently earned her Juris Doctor from University of West Los Angeles. Following law school, she worked for some of the largest and most reputable full-service civil litigation firms in Los Angeles. For over 11 years, she has specialized in Workers Compensation and Bankruptcy Law. During her tenure, she has worked with a large variety of clients and employers. She has handled hundreds of cases, succeeded in many cases at trial, and produced great overall results for his clients. As a founder of Ensafi Law, she specializes in Workers Compensation Law, Personal Injury,  Employment Law and Bankruptcy. She is a member of the Los Angeles County Bar Association and National Association of Consumer Attorneys. Her team has over 30 years of combined experience in worker's compensation alone!
Who We Are
The Workers Compensation Attorney Group assists those who have been injured at work or on the job in filing claims and getting just compensation that can be used to pay medical bills, recoup lost wages, pay for rehabilitation and/or therapy that is needed to get healthy again, and allow for any pain and suffering that may have occurred as a result of the workplace injury.
Workers' compensation laws and the process for filing a claim can be fairly complicated in California. As a law firm with great experience in Orange County, California we can help you face the army of corporate lawyers and claims administrators that will be working for the best interest of your employer and their insurance provider. We are here to work for you!
Here are some of the most important ways that we will seek to be on your side through all the workers' compensation claims process.
We Want to Understand You and Your Case
The attorneys that will represent your employer and your employer's insurance carrier will do everything that they can to present a case in the best interest of the companies. They are dedicated to telling the story of the company's side.
We want to know you and hear your side of the story. And we will work to be sure that your voice is heard in the best possible light for your interests, and those of your family.
We Know About Insurance Companies
Insurance companies do perform a good service when it comes to protecting people from risk. However, they are built around protecting their own risks – and those of the corporate customers that hire them – first and foremost. We know the tactics that they will try to employ to deny your claim or reduce the benefits that you are entitled to. We won't let them do that without a fight.
We Know the Laws of California
California's workers' comp system is vast and the laws governing it are complex. We make it our business to know every detail of California workers' compensation law so that we can make the law work on your behalf.
One aspect of California workers' comp law that many people are unaware of is the fact that you can predesignate your own personal physician or private medical practice to evaluate you if you are injured on the job. This means that you do not have to rely solely on the doctors appointed by the insurance company.
Predesignating is accomplished by notifying your employer in writing, either in a letter in your own handwriting or by using a form from the state (DWC Form 9783). Be sure to include the name of your employer, a statement that if you are hurt on your job you wish to designate your personal physician, the name and contact information of your physician, your name, your signature, and the date.
We Know the Orange County Area
We know that Orange County has been a popular and booming area in California for years, and it continues to match that pace. We have grown with the area and are aware of local offices of the state Division of Workers' Compensation. Often, just knowing which office to file a claim with can speed up your case. We know employers and insurers that operate in this area, as well.
We Know the Medical Issues
There is a long list of medical conditions that can result from workplace injuries. We are familiar with the medical terminology and issues that arise most often, and we will never let you be confused by insurance company jargon that sounds scary or intimidating. Whether you have an injury of the head and neck, the back and spine, or broken bones or injuries to any part of your body – we know what it takes to make you whole and we will be sure you get the compensation you deserve.
We Know Timely Communication Matters
It is upsetting enough to be injured at work and to have to live with a confusing system that tries to turn you into a case number. We will never add to that stress by leaving you in the dark about the progress of your case. We believe in communicating with you regularly and will always respond to all phone calls, email message, or text message that you send us within 24 hours that it is sent. That's one of our key commitments to you.
Our Consultation Is Free
You pay absolutely nothing to talk with us about your case. In fact, in most cases, you pay nothing unless we make a recovery for you. You are already most likely missing wages from your time away from work, so we want to be sure the financial burden is not increased by obtaining the services of a qualified workers' compensation attorney.
We Can Connect You with Other Professionals
You may need the services of reputable professionals such as doctors, physical therapists, occupational therapists, financial planners, or others. We maintain a network of professionals who can assist you through the time of your workers' compensation claims process and beyond.
Contact Us for Help
If you have been injured on the job – whether in a one-time accident or through a gradual process that has developed over time – and you feel that you are entitled to benefits, give us a call at 562-485-9694. You do not need to worry about retribution at work; we will be sure the California law that prohibits workplace intimidation is applied in your case.
At The Workers Compensation Attorney Group, we will discuss your case with you and will be sure that you understand your options. We will assist you with all the needed paperwork and claims forms. We will stand with you at all administrative hearings and other legal proceedings. And, most of all, we will be there to balance the professionals that will be working for your employer and the insurance company. We work for you and will not rest until you get the best possible settlement for your injury.